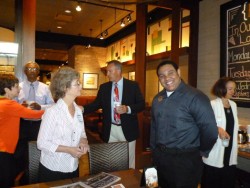 Business Building is about establishing a mutually beneficial relationship with other business people and potential clients and/or customers.  The purpose of business networking is to increase business revenue - one way or another.  It may yield immediate results such as landing a new client, or develop over time, as in learning a new business skill.
The Peabody Area Chamber of Commerce holds 3 regular events each month - Morning, Afternoon and Evening, so you are sure to find one that fits your schedule:
Power UP!
(formerly Networking Before Nine) meets the first Wednesday of each month from 7:30-9:00 am   It is a leads referral group offered through the Peabody Area Chamber of Commerce providing business professionals an opportunity to meet, mix and mingle and grow their business through building relationships, and without the hassle of required attendance, weak leads or costly fees.
Facilitated introductions between attendees ensures you will meet everyone in the room
Leave with a One-on-One future meeting with another attendee
Receive a contact list for all attendees to assist with follow up.
Business Studio Series
Luncheon held the 4th Thursday of each month at a local restaurant.  Each Business Studio offers a topic with guest speaker on a subject to help your business, plus the opportunity to share best practice while you rub elbows with decision makers, expand your visibility, and enjoy a great meal.  As a member benefit, we will email you a list of the participants with their contact information to facilitate follow up.
Business After Scheduled Hours
More social in nature, this monthly event offers members and prospective members alike the chance to meet colleagues representing products and services in an engaging, unique atmosphere. Often held in conjunction with other chambers of commerce or networking groups, each BASH provides the opportunity to converse with a large group of business community members in a manner befitting what they themselves have to offer as a company, making each and every monthly event distinctive.  Thoughtfully detailed venues, inspired fare, delicious drinks, door prizes, and of course contacts galore await you!  Typically held from 530-730pm;location and date vary by month
Each time you attend you will see familiar faces as well as meet new contacts.  We couldn't make it any easier for you to get the referrals you want - but you have to attend in order to get results!
See the Business Calendar of Events for exact dates, times and locations.
"Networking has always been the focus of my marketing plan and the Peabody Area Chamber of Commerce has provided me with the events to do it. But networking does not always mean taking. Several years ago a brand new business owner moved into my building. I went down to introduce myself and asked if I could be of help finding some professional help. I helped this business owner sign up for the Chamber and he utilized an attorney, tax advisor, florist, IT person just for starters. 2 weeks later he apologized for not asking what I did for a living and next thing you know I manage both his and his wife's retirement plan and college funds, as well as a sizeable trust his wife is trustee for. I cannot fathom the amount of business I have given and received by being affiliated with the Peabody Area Chamber of Commerce!"

- Rudy Van Oeveren, Peabody Wealth Advisors