The Peabody Area Chamber of Commerce manages an active advocacy program combining research, surveys, government relations and communications.  Through its Board of Directors  and Government Advoacy Committee, the Peabody Area Chamber has forged key relationships with elected officials and leaders of government agencies, making it an advocate for the business community.
The Chamber's Government Advocacy Committee encourages elected officials to work with the business community to bolster the local economy and improve competitiveness.  We encourage cooperation and partnerships among government, education, business and civic groups.
The issues addressed by the Government Advocacy Committee are those that:
Involve or pertain to the business community as a whole
Impact more than a substantial portion of the Chamber membership
Influence the overall economic development of the area
Impact an entire business sector such as manufacturing, services or tourism/retail
Impact the entire business climate
Public positions and support statements will be given when the issues meet the above guidelines.  For those issues that don't meet the above guidelines, we offer assistance by providing appropriate networking contacts with other stakeholder organizations, government agencies, representatives or community leaders.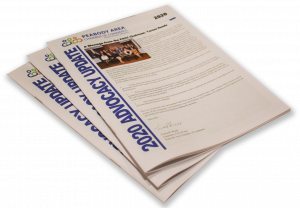 2019 Legislative Breakfast Recap
The PACC welcomed members of our City and State legislature to this annual event offering our members an update on the current business climate and what's on the horizon for the rest of the year.  Special thanks to Peabody Access TV for filming this event.